Dr. Narendra Pathak
M.D. (Hom.)
B.H.M.S. (Ujj.), D.H.M.S. (Bhopal)
F.R.H.S., M.F. Hom. (U.S.A.),
F.R.S.C. (London)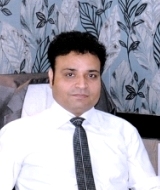 Dr. Narendra Pathak is a renowned homoeopath and medical practitioner in India. He specializes in Skin Disorders, Liver Disorders, Renal Disorders, etc. He also researches on concentration difficulties, nervousness and anxiety. He has worked at Pareek Hospital & Research Center, Agra.
He is a consultant homeopathy doctor with more than 20 years of clinical experience. He has a flourishing homoeopathic clinical practice in Gwalior, Madhya Pradesh, India. He is also the founder of the Dr. Pathak's Homoeopathic Cure Center, situated at Gwalior.
Dr. Narendra Pathak has two centers conveniently located at Gwalior and Datia, M.P. where he is engaged in helping people retain their health and get a cost effective homoeopathic treatment. Dr. Narendra Pathak offers his patients the most comfortable, modern and effective treatment available.
Lifetime Membership
Liga Medicorum Homoeopathica Internationalis Association
International Homoeopathic Medical Society
Asian Homoeopathic Medical League
Indian Homoeopathic Medical Association
Homoeopathic Medical Association of India
Indian Institute of Homoeopathic Physicians
Indian Society of Homoeopathy (ISH)